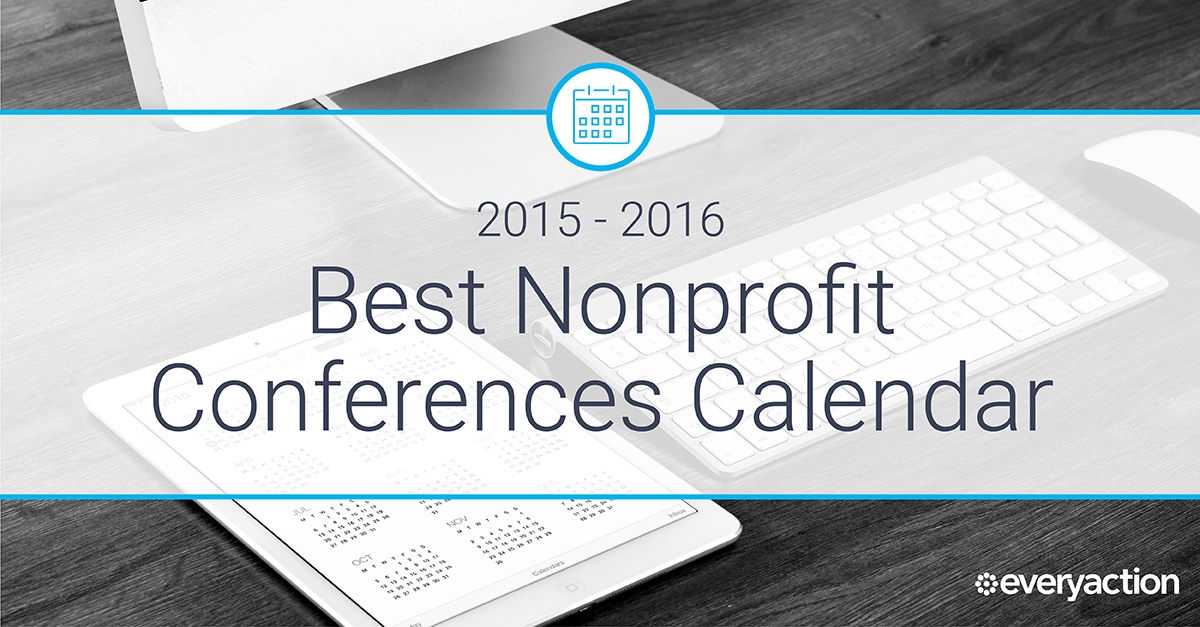 In the past year, thousands of nonprofit pros took advantage of our definitive Best Nonprofit Conferences Calendar, and we're so excited to share our brand new 2016 list!
We've scoured the nonprofit-sphere for high-quality conferences and forums, informal trainings, and more that will be taking place all over the world, focusing on essential topics like:
Nonprofit management
Fundraising
Donor relations
Accounting
Marketing
Nonprofit technology, and more!
As this collection of fantastic conferences continues to grow, we'll be updating event details like ticket prices and event hashtags - you're welcome!
On the list and want a sweet Best Conference badge for your website? Drop us a line!
2015 - 2016
Best Nonprofit Conferences Calendar

spacer
Name (a-z)
State (A-Z)
Date

Alliance Management Institute

The Alliance Management Institute (AMI) is the only national conference expressly designed to prepare 400+ college students for a career in the social sector.

Leadership / #AMI16 / @NPL_Alliance

TX
Leadership
1/3/2016

12th Annual Nonprofit Governance Symposium

This year's symposium is a tribute to these strengths that have made our sector such a driving force. Its 45 workshops, seminars and lectures explore internal and external strategies, systems, methods, best practices and successful examples. We have gathered an outstanding group of field experts to teach how to build and sustain this kind of governance.

Governance / @usdsoles

CA
Governance
1/7/2016

2016 Nonprofit Organizations Institute

The 33rd Annual Nonprofit Organizations Institute features leading nationally recognized experts from private foundations, public charities, law, finance and government to discuss the latest tax, legislative and governance issues affecting nonprofit organizations.

General / @southwestfdns

TX
General
1/13/2016

38th Annual Nonprofit Conference

Learn about new and proposed accounting and auditing standards and how they will impact not-for-profit entities and their auditors.

Accounting / @nysscpa

NY
Accounting
1/14/2016

Structuring Major Gifts Conference

Examine major gift planning in the context of current economic conditions, changes in donor populations and increased competition for the charitable dollar. Discover how these and other factors are irrevocably changing the ways donors structure their largest gifts of a lifetime.

Fundraising / #casesmg / @CASEAdvance

CA
Fundraising
1/20/2016

Planned Giving Primer

Participants will acquire a foundational understanding of this increasingly important component of fundraising strategy and will be able to identify and distinguish between the most common planned giving vehicles.

Fundraising / #caseadvdean / @CASEAdvance

CA
Fundraising
1/20/2016

2016 Analytics with Purpose Conference

Get ready to learn from some of the best analytics minds out there. Learn how leading companies are getting the most from their data.

Data / #AMAanalytics / @AMA_Marketing

AZ
Data
2/7/2016

Agents of Change Summit

The Agents of Change Summit aims to unify and expand the community of professionals using marketing and technology to change people's health and lifestyle behaviors for social good. It will bring together the practitioners, scientists and creative minds of behavior change to discuss the science and technology of change.

Technology / #AOCS16 / @AOCSummit

CA
Technology
2/8/2016

Yale Philanthropy Conference 2016

This year, the Yale Philanthropy Conference will explore the evolving role of philanthropy within this ecosystem of change. We'll examine how to harness tools for nurturing positive outcomes and amplifying impact.

Strategic / #YPC2016 / @YPC2016

CA
Strategic
2/12/2016

Monumental Fundraising Conference

DMA / Washington, DC / Not available

2016

The Monumental Fundraising Conference is a two-day event where you will exchange innovative marketing and fundraising ideas, generate insightful solutions and think creatively to help you make the relationship with your donors even stronger. This conference will be the platform for improving public awareness and receptivity to direct and interactive market driven philanthropy.

Fundraising / #DCNP2016 / @DMA_USA

DC
Fundraising
2/18/2016

2016 IMPACT Conference

The mission of IMPACT is to connect, educate, and mobilize college students, nonprofit professionals, and educators to strengthen their communities through service, action, and advocacy.

General

MA
General
2/18/2016

MarketingSherpa Summit 2016

MECLABS / Las Vegas, NV / Less than $1,700

2016

Discover how-to details and strategies for fast, measurable digital marketing success. All of this real-world experience is grounded in rigorous research and is taught by successful marketers who face your same challenges. Learn how to make your campaigns – and your career – more successful than ever and do it in a world-class venue.

Marketing / #Sherpa16 / @MarketingSherpa

NV
Marketing
2/22/2016

frank gathering

frank / Gainesville, FL / Invite only

2016

frank is the foremost gathering of people who use strategic communications to drive social change. At frank, we divide our time among great talks by strategists, storytellers and scientists and casual opportunities to connect with other sophisticated communicators over coffee or cocktails.

General / #frank2016 / @frankgathering

FL
General
2/23/2016

2016 Peer-to-Peer Fundraising Conference

Each winter hundreds of peer-to-peer fundraising professionals and industry experts gather to share new ideas, hear about industry trends and learn what's happening in peer-to-peer fundraising.

Fundraising / #P2PForum16 / @P2PForum

FL
Fundraising
2/24/2016

Social Capital 2016

Social Capital 2016 is a content-rich, invitation-only conference bringing together the brightest nonprofit and corporate minds for a candid exchange on growing strategic partnerships.

Strategic Partnerships

VA
Strategic Partnerships
2/24/2016

Conference on LGBT Engagement and Fundraising Strategies

The LGBT community is growing in visibility and formal acceptance. The total buying power of this community is projected to be more than $790 billion and the surveys indicate that the LGBT community is especially likely to consider supporting charitable organizations for which they are committed with a planned gift. Often before they are willing to give, they must be engaged in thoughtful and meaningful ways. How can institutions better welcome and integrate this community into their educational advancement practices?

Fundraising / #caselgbt / @CASEAdvance

DC
Fundraising
3/1/2016

Annual Conference for Media Relations Professionals

Join us in Washington, D.C., and discover how to reach your audiences more directly through social and digital media, while still landing placements through the national press or your local newspapers and broadcast stations. You'll learn to embrace technology and find out how to put it to work for your institution.

Communications / #casemrp / @CASEAdvance

DC
Communications
3/1/2016

Annual Conference for Development Researchers

This conference will examine our role from multiple perspectives, focusing not only on the skills we bring to the fundraising process, but also the importance of the internal relationships that make certain those skills are used, and valued.

Donor Relations / #casedevr / @CASEAdvance

IL
Donor Relations
3/2/2016

2016 Nonprofit Finance + Sustainability Conference

Join the Minnesota Council of Nonprofits and Nonprofits Assistance Fund for this fifth annual day-long conference will offer insights, strategies and tools for staff and board members looking at your organization's financial sustainability from diverse perspectives – from strategy and oversight to implementation and evaluation.

Finance / #npfinance16 / @SmartNonprofits

MN
Finance
3/3/2016

South Carolina's Nonprofit Summit

South Carolina's Nonprofit Summit is the state's largest and most comprehensive conference designed specifically by and for leaders in the nonprofit sector. Whether you have a staff of one or 100, you will find benefit in taking time away to attend.

General / #NPSummit2016 / @SCANPO

SC
General
3/9/2016

2016 Grantmakers In Health Annual Conference

Join Grantmakers In Health for the 2016 annual conference, the largest gathering of health funders in the country. We're bringing together bright minds, seasoned experts, and innovative practitioners for three days of learning, sharing, and networking.

Health / #GIHac / @GIHealth

CA
Health
3/9/2016

Digital Strategy Innovation Summit

This summit will gather the world's most dynamic and high level executives operating in digital strategy. Rest assured, all of the burning issues surrounding digital strategy will be dealt with in no holds barred discussions at this groundbreaking summit.

Digital / #DigiStrat / @IEGroup

NY
Digital
3/10/2016

SXSW

SXSW / Austin, TX / Price varies

2016

The South by Southwest (SXSW) Conferences + Festivals offer the unique convergence of original music, independent films, and emerging technologies. Fostering creative and professional growth alike, SXSW® is the premier destination for discovery.

General / #SXSW / @sxsw

TX
General
3/11/2016

The Great Ideas Conference

ASAE / Colorado Springs, CO / Price varies

2016

It's time to recharge, reimagine, and redesign the future of your association. You'll be joined by hundreds of association CEOs, VPs, and directors who face the same challenges as you, and are ready to share their ideas.

Associations / #Ideas16 / @GreatIdeasConf, @ASAEcenter

CO
Associations
3/13/2016

Grant Managers Network Annual Conference

Join your colleagues at the GMN 2016 conference, the only gathering serving the people who do this vital work in philanthropy, to grow your expertise and discover how you can lead your organization, whatever your role or title, to better outcomes for your organization and the nonprofits it funds.

Grants / #GMN2016 / @grantsmanagers

LA
Grants
3/14/2016

Nonprofit FundCon

Fundraising is all about creating trust and building relationships. Is your nonprofit optimizing your fundraising strategy? On Wednesday, March 16th, New York Nonprofit Media will host Nonprofit FundCon bringing together fundraising and development executives from nonprofits across New York to discuss how to create a campaign and raise money.

Fundraising / #NYNFundCon / @NYN_media

NY
Fundraising
3/16/2016

Personal Democracy Forum 2016

Since 2004 Personal Democracy Forum in New York has been an exceptional opportunity for representatives of NGOs, public administration, activists and journalists to discuss how technology affects politics, government and civic life. The annual conference PDF Poland-Central Eastern Europe has become the biggest European event devoted to technology, democracy and civic engagement providing space of debate for participants from more than 25 countries.

Strategy / @CivicHall

za(Int.) Poland
Strategy
3/17/2016

NCRC Annual Conference

NCRC's Annual Conference is one of the nation's largest gatherings of community nonprofits, policymakers, government officials, small businesses, banks, and academia, all coming together to create a just economy.

Strategic / #JustEconomy / @NCRC

DC
Strategic
3/16/2016

Washington Nonprofit Legal and Tax Conference

The Washington Non-Profit Legal Tax Conference is dedicated to educating those in the nonprofit world responsible for all legal and accounting aspects as they pertain to exempt organizations.

Accounting

DC
Accounting
3/17/2016

Social Good Tech Week

One week, thousands of people and ideas. Harnessing the power of technology to create and scale social change.

Technology / @SGTWeek

CA
Technology
3/20/2016

ACCP: The Conference

ACCP / San Diego, CA / Not available

2016

ACCP: The Conference features General Sessions, Learning Labs, Workshops, The Masters' Series and new in 2016, Connexity Live.

CSR / #accp2016 / @accprof

CA
CSR
3/20/2016

International Fundraising Conference

AFP / Boston, MA / Price varies

2016

Because you are the catalyst who makes philanthropy happen — this conference is for you. Your opportunity to learn. Discuss. Share. Be amazed. And get reinvigorated about the extraordinary things you make possible. It's about the skills, knowledge, expertise and know-how you need to make philanthropy happen in your community. And inspire your supporters to even greater heights.

Fundraising / #AFPFC / @AFPIHQ

MA
Fundraising
3/20/2016

Nonprofit Technology Conference 2016 (16NTC)

NTEN / San Jose, CA / $650

2016

Each year, the Nonprofit Technology Conference (NTC) is the nonprofit industry's signature technology event, and 2016 will be no different. The NTC brings together the best and brightest nonprofit professionals from around the world to collaborate, innovate, and maximize effectiveness with technology.

Technology / #16NTC / @NTENorg

CA
Technology
3/23/2016

Diversity Abroad Conference

The Diversity Abroad Annual Conference constitutes the most comprehensive national forum on issues of access, diversity, and inclusion in international education.

Diversity / #DAC16 / @diversityntwk

GA
Diversity
4/3/2016

Cultivating Student Philanthropy

Designed for advancement professionals charged with starting or growing a student philanthropy program.Learn techniques to create a tradition of gratitude and support for the institution among students.

Fundraising / #casecsp / @CASEAdvance

IL
Fundraising
4/4/2016

Create Good 2016

A half-day conference to inspire the nonprofit communicator to try new ideas, complete current projects, and find like-minded awesome professionals. This fun, informative conference will spark ideas and recharge your engine to keep doing good every day.

Communications / #CreateGood16 / @creategoodcon

NC
Communications
4/5/2016

24th Annual Conference for Institutionally Related Foundations

This annual meeting of foundation executives and other senior professionals provides a forum to learn about the critical and emerging issues affecting institutionally related foundations. In-depth general session presentations set the stage for smaller elective sessions. The conference is designed primarily for executives at foundations affiliated with four-year public institutions and community colleges.

Fundraising / #caseirf / @CASEAdvance

AZ
Fundraising
4/6/2016

NAYDO 2016 Conference

Detroit, Michigan is your dynamic destination for NAYDO 2016, the ideal setting for a discussion on re-imagining cause and community.Celebrate NAYDO's first-ever cross border collaboration with conference co-hosts, YMCAs of Michigan and YMCA of Western Ontario Canada, and experience a fusion of culture, cause and innovative storytelling.

Youth / #NAYDO2016 / @YMCA_NAYDO

MI
Youth
4/6/2016

Cause Camp 2016

Join us as we welcome 16 nonprofit speakers for two days chock-full of learning. This is your chance to meet, interact and learn from the best of the nonprofit best in fundraising, marketing and more. Join us in-person or stream the conference online. Speakers include Marc A. Pitman, Jay Wilkinson, Maeve Strathy and Darian Rodriguez Heyman—and that's just scratching the surface.

Strategic / #CauseCamp / @NPhub

NE
Strategic
4/7/2016

Council on Foundations 2016 Annual Conference: The Future of Community

Join us for the premier annual gathering of foundation leaders in the United States. This year's conference theme, The Future of Community – Identity. Purpose. Place., will frame the three days we spend together sharing critical insights, engaging in realistic conversations, and realizing that the challenges we face also unite us.

Foundations / #COFannual / @COF_

DC
Foundations
4/8/2016

DIGIMARCON Cruise

DIGIMARCON CRUISE 2016 Conference showcases the most audacious and thought provoking speakers in the digital marketing industry, providing attendees with emerging strategies, the latest innovative technologies, best practices, and insights from successful digital marketing campaigns.

Marketing / #DIGIMARCON / @DIGIMARCON

TX
Marketing
4/10/2016

Digital Leadership Forum 2016

FairSay / Oxford, (Int.) England / Price varies

2016

The Digital Leadership Forum is a two-day personal development workshop aiming to help Digital Leads and other Managers in organizations become better in leading Digital. It's an opportunity to unwind, slow down, take stock of the past year, learn how to use some of the influencing, leadership and coping tools and create a personal development plan for the year ahead.

Digital / @fairsay

za(Int.) England
Digital
4/11/2016

eCampaigning Forum (ECF) 2016

FairSay / Oxford, (Int.) England / Price varies

2016

At ECF, you set your agenda and we help you find others who share it. Speakers and panels are there to provoke thought. Result: you learn more and connect with more people. This is the way events should be.

Strategic / #ECF16 / @fairsay

za(Int.) England
Strategic
4/13/2016

Skoll World Forum

The Skoll World Forum on Social Entrepreneurship is the premier international platform for advancing entrepreneurial approaches and solutions to the world's most pressing problems.

Entrepreneurship / #skollwf / @SkollFoundation

za(Int.) England
Entrepreneurship
4/13/2016

The 2016 Just Giving Conference

Less a conference than a facilitated retreat, the 2016 gathering will encourage the active and full engagement of all participants. Traditional workshops will be replaced by ongoing "engagement lab" discussions led by members of our community, together with many of our most inspiring and thoughtful civil society partners.

General / #JustGiving2016/ @EDGEFunders

CA
General
4/19/2016

2016 National Nonprofit Leadership Conference

The Center for Nonprofit Advancement is delighted to collaborate with peer associations to bring you three incredible days of learning and networking at the National Nonprofit Leadership Conference.

Leadership / #NPLeadership16 / @CenterNonprof

VA
Leadership
4/20/2016

Conference on Diverse Philanthropy and Leadership

CASE and African American Development Officers Network (AADO) will conduct the fourth conference on diverse philanthropy and leadership to meet the great demand for professional development at all levels of advancement, not only in the area of diverse leadership, but also in understanding philanthropic diversity.

Diversity / #casedpl / @CASEAdvance

IL
Diversity
4/21/2016
CA
Youth
4/24/2016

Do Good Data 2016

On Wednesday, April 27- Friday, April 29, 2016, attend the leading conference on data, research, and analytics for social sector professionals. You'll hear from some of the most innovative and forward-thinking leaders in the social sector about how data is creating a more effective and efficient sector.

Research / #DoGoodData2016 / @DA4SG

IL
Research
4/27/2016

2016 Government and Not-for-Profit Conference

MACPA / College Park, MD / $255

2016

The Government and Not-For-Profit Conference addresses the unique technical and professional challenges of the CPAs working in these sectors. This annual, on-day event puts a special emphasis on the skills and insight that CPAs can immediately implement.

Accounting / @MACPA

MD
Accounting
4/29/2016

GEO 2016 National Conference

GEO's 2016 National Conference offers participants the opportunity to explore the most relevant topics in the philanthropic field, hear new ideas for smarter grantmaking practices that enable nonprofits to grow stronger and achieve better results, and engage in meaningful discussions with peers.

Fundraising / #2016GEO / @GEOfunders

MN
Fundraising
5/2/2016

SPECTRUM Conference

CSPRC / St. Louis, MO / Price TBA

2016

The annual SPECTRUM Conference features programs by top professionals on all facets of nonprofit communications and development.

Communications / #Spectrum16 / @CSPRCstl

MO
Communications
5/10/2016

DIGIMARCON East

DIGIMARCON EAST 2016 Conference showcases the most audacious and thought provoking speakers in the digital marketing industry, providing attendees with emerging strategies, the latest innovative technologies, best practices, and insights from successful digital marketing campaigns.

Marketing / #DIGIMARCON / @DIGIMARCON

NY
Marketing
5/12/2016

The Washington State Nonprofit Conference

Revolutionize the way you accomplish your mission. Join us at the 2016 Washington State Nonprofit Conference to explore ways human centered design can connect people, transform programs and advance causes.

Leadership / #WSNConf / @WaNonprofits

WA
Leadership
5/16/2016

Enterprising Nonprofits 2016

This all-day interactive conference allows for-profit and nonprofit business leaders, executive directors, business development directors and volunteer coordinators to collaborate and share best practices. The Northeast Wisconsin's nonprofit community is integral to our day-to-day quality of life and long-term success.

General / #ENP16

WI
General
5/17/2016

DRIVE/conference

DRIVE/ is the preeminent event for professionals who are determined to be subject matter experts in the fields of data, reporting, information, analytics, modeling, visualization and beyond.

Technology / #DRIVE16 / @DRIVExchange

WA
Technology
5/17/2016

Planet Philanthropy 2016

Planet Philanthropy is the annual statewide conference presented by the Association of Fundraising Professionals (AFP) Florida Caucus. Planet Philanthropy 2016 will be held May 22-24, 2016 at The Caribe Royale All-Suite Hotel and Convention Center in Orlando, Florida.

General / #AFP16PP / @AFPFL

FL
General
5/22/2016

Cause Marketing Forum 2016

CMF2016 is the place to hear from best and the brightest minds in the world of doing well by doing good. And it's designed to connect you with those experts and the practitioners who'll surround you.

Marketing / #CMF2016 / @TweetCMF

IL
Marketing
6/1/2016

501(c)onference 2016

The 501(c)onference is the Center for Nonprofit's annual gathering of nonprofit professionals. Each year, hundreds of Executive Directors, Board Members, Funders, and others come together with us to take some time away from the daily grind of the office, discuss latest trends, connect with colleagues, and be refreshed.

Strategic / #501conference / @CNMsocal

CA
Strategic
6/1/2016

2016 Fundraising and Development for Nonprofits Conference

Interactive workshops, techniques you can use at work immediately, and peer networking are among the many benefits that help strengthen individuals, teams, and organizations that attend and support this conference.

Fundraising / @UWSoHE

WI
Fundraising
6/1/2016

NCTech4Good Conference

The NCTech4Good Conference is a two day event for sharing knowledge about technologies that can advance the mission of nonprofit organizations. This conference can help you solve technology challenges you face, and connect you to fellow do-gooders with whom you can share ideas, resources, and solutions.

Technology / #nct4g / @NCTech4Good

NC
Technology
6/2/2016

Nonprofit OpCon

This event focuses on streamlining processes and operations for nonprofits in New York. How do we make things easier and more pleasant for executive leadership, operations, IT, risk, finance, HR and more. Bring your organization into the 21st century and abandon old practices that are depleting your valuable resources! It's a new day in the nonprofit industry; join us as we explore these insights and strategies.

Operations / #NYNOpCon / @NYN_media

NY
Operations
6/9/2016

Annual Symposium for Nonprofit Professionals and Volunteers

Strategy / @AxelsonCenter

IL
Strategy;
6/13/2016

Marketing, Membership, and Communications Conference

ASAE / Washington, DC / Price TBA

2016

The Marketing, Membership and Communications Conference offers cutting-edge education, innovative speakers, and helpful exhibitors to help you overcome daily challenges. You will boost your creativity and dive deep into the topics association executives are talking about alongside your professional peers – join us in 2016 for this unique event!

Associations / #MMCCon / @MMCconf, @ASAEcenter

DC
Associations
6/13/2016

2016 Nonprofit Leadership Conference

Courage is our calling. How are you courageously engaging across difference? Join the Humphrey School of Public Affairs and the Minnesota Council of Nonprofits as we challenge presenters and attendees to engage one another across difference. The 2016 Nonprofit Leadership Conference will address these challenges; we hope you'll join us.

Leadership / @SmartNonprofits

MN
Leadership
6/14/2016

DIGIMARCON West

DIGIMARCON WEST 2016 Conference showcases the most audacious and thought provoking speakers in the digital marketing industry, providing attendees with emerging strategies, the latest innovative technologies, best practices, and insights from successful digital marketing campaigns.

Marketing / #DIGIMARCON / @DIGIMARCON

CA
Marketing
6/15/2016

4th Annual Foundation, Endowment and Not for Profit Investment Summit West

At this exclusive and top event in Canada, source strategies to help you diversify your investments and navigate a rapidly shifting economic landscape. Develop a blueprint to help your Foundation, Endowment or Not for Profit continue to achieve its mandate and benefit generations to come!

Foundation

za(Int.) Canada
Foundation
6/15/2016

MCON

MCON is about turning interest into action. Each year, MCON gathers leaders, activists and social entrepreneurs from all generations to understand today's social movements and how to turn interest in an issue into action.

Marketing / #MCON / @achieve_consult

DC
Marketing
6/21/2016

Annual Conference for Donor Relations Professionals

Join us for a conference experience that unites members of these groups to encourage you to think more creatively, strategically and collaboratively about how best to steward your institution's donors.

Donor Relations / #casedrp / @CASEAdvance

CA
Donor Relations
6/22/2016

Games for Change Festival

On June 23 and 24, the core programming of the Games for Change Festival is moving to its old (and new!) home at The New School's Parsons School of Design. The event will feature keynotes by top thought leaders in games and social impact, the G4C Awards ceremony, breakout sessions and workshops, game arcades, and more.

Technology / #G4C / @G4C

NY
Technology
6/23/2016

AICPA Not-for-Profit Industry Conference

AICPA / National Harbor, MD / Less than $1,400

2016

During the 2016 AICPA Not-for-Profit Industry Conference, you'll not only get the year's most comprehensive update but also have the opportunity to get your questions answered by the industry's top experts.

Accounting / @AICPAconfs, @AICPA

MD
Accounting
6/27/2016

ServiceUnites Conference on Volunteering and Service

Points of Light's Conference on Volunteering and Service is the largest service-related convening of nonprofit, government, business and civic leaders in the world. Each year, thousands of people who really care about the future of volunteer service convene in one place to work together to increase the number of volunteers in the world and the impact of the work they do.

Volunteering / #ServiceUnites / @POLConference

MI
Volunteering
6/27/2016

12th International ISTR Conference

We are thrilled to be hosting our 12th International Conference and 3rd PhD Seminar in collaboration with Ersta Skondal University College on their campus in Stockholm, Sweden. This year's theme is "The Third Sector in Transition: Accountability, Transparency, and Social Inclusion"

Research / @ISTRorg

zzLocation TBD
Research
6/28/2016

2016 Nonprofit Marketing Conference

One-of-a-kind perspectives, expert-led sessions and an exceptional line-up of speakers will be featured throughout this unparalleled conference program, with all content tailored specifically for nonprofit marketers.

Marketing / @AMA_Marketing

DC
Marketing
7/11/2016

Bridge to Integrated Marketing and Fundraising Conference

With 14 tracks, 77 unique sessions, 3 pre-conference workshops-and an emphasis on providing more case studies and innovative content, our goal is to make this the best conference you've ever attended.

Marketing / #bridge16 / @BridgeConf

MD
Marketing
7/13/2016

Netroots Nation 2016

Join 3,000 fellow activists, social justice advocates, labor and organizational leaders, grassroots organizers and bloggers for four days of thought-provoking panels, practical trainings and fun networking opportunities.

Community / #NN16 / @Netroots_Nation

MO
Community
7/14/2016

2016 COA Conference

COA's 2016 Conference will serve as a collaborative forum for leaders in the human services field to learn and be inspired through the sharing of wisdom, insights, struggles, and successes.

Strategic / @coa_news

NY
Strategic
7/17/2016

Raise 2016

Raise 2016 will convene nonprofit fundraisers for engaging discussions + collaborative panels that pair development leaders with for-profit strategists. Speakers include advancement evangelists from Boston University, Cornell University and Williams College and for-profit strategists from Bain Capital Ventures, The Boston Celtics, Dunkin' Brands, LinkedIn and more.

Advancement / #Raise2016 / @EverTrue

MA
Advancement
7/28/2016

2016 New York Nonprofit Conference

The New York Nonprofit Conference is an annual two-day event where more than 500 fundraising and marketing professionals, in the nonprofit and commercial sectors, gather to exchange innovative marketing and fundraising ideas, generate insightful solutions and think creatively.

Fundraising / @DMANF

NY
Fundraising
8/2/2016

National Urban League Annual Conference

For four power-packed days, political, business, and community leaders will convene for the 2016 National Urban League Conference. Join us in Baltimore for an empowering conference as we confront the crisis in education, jobs, and justice facing ourcommunities.

Community / #NUL16 #SaveOurCities / @NatUrbanLeague

MD
Community
8/3/2016

YNPN National Conference + Leaders Institute

YNPN / Portland, OR / Not available

2016

The Young Nonprofit Professionals Network (YNPN) National Conference & Leaders Institute is an annual event that brings together YNPN leaders from across the country for three days of networking, professional development, and chapter collaboration. This year's Activate! Summit & Leaders Institute will feature movement leaders and nonprofit experts who will share their experiences and challenges creating change in their community.

Leadership / #YNPN16 / @YNPNportland

OR
Leadership
8/5/2016

Nonprofit Learning Lab Institute

The theme of the institute is Creating Connections and Discovering Possibilities, and is designed to advance the skills and knowledge of nonprofit professionals, volunteers, board members and community leaders. Our institute will also provide opportunities for attendees to create meaningful connections and potential collaborations.

Skill-building / #npla / @nonprofitll

CA
Skill-building
9/1/2016

AIDF Global Disaster Relief Summit

The AIDF Global Disaster Relief Summit strives to enable quicker and better response during crisis and catastrophes in a more effective, sustainable and cost-efficient way. This year's programme focuses on best practice in logistics and transport, Procurement & Supply Chain Management,Partnerships & Financing, Security & Logistical Challenges in the Middle East, Emergency Communications & Operations.

Development / #AIDFdisasterrelief / @FollowAIDF

DC
Development
9/7/2016

Rocky Mountain Philanthropy Institute

The conference features keynote speakers Alice Ferris, ACFRE and Jim Anderson, CFRE from GoalBusters. They will speak on how to work with different generations of donors for our opening presentation and close out the day with a talk about staying true to your personal brand. This year's Reach the Peak conference will help each attendee gain knowledge to help them reach their various peaks and achieve their goals.

Fundraising / @AFPIHQ

CO
Fundraising
9/8/2016

11th Annual Nonprofit Management Institute

On September 13 and 14, join Stanford Social Innovation Review, academics, practitioners, and other social sector leaders at Stanford University to learn how to harness the tremendous potential and power of networks: Understand what network leadership is, develop a network leader mindset, understand the power that networks can offer to create resilience, and learn how developing talent within a network can fuel innovation.

Management / #SSIRinstitute / @SSIReview

CA
Management
9/13/2016

Nonprofit MarkCon

NYN Media is proud to present our second annual Nonprofit MarkCon. One of the best ways to stir up awareness and publicity for your nonprofit brand is to generate some buzz that spans both the online and the offline worlds, and can put an agency visibly on people's radars in a very positive way. This event will bring together marketing and communications executives from nonprofits across New York to discuss how to build a brand.

Marketing / #MarkCon / @NYN_media

NY
Marketing
9/15/2016

2016 Risk Summit

This two and a half day conference is ideal for nonprofit leaders who want to broaden their perspective on risk, learn practical strategies for identifying and managing risk, and bring risk resources and know-how back to their mission-driven organizations. If you're interested in positioning the risk management function to truly fortify your mission and navigate around or through the "what ifs" of the nonprofit world, you won't want to miss this event.

Operations / #2016risksummit / @nonprofitrisk

IL
Operations
9/18/2016

Strata + Hadoop World

Presented by O'Reilly and Cloudera, Strata + Hadoop World is where big data, cutting-edge data science, and new business fundamentals intersect — and merge.

Data / #StrataHadoop / @strataconf

NY
Data
9/26/2016

The Communications Network Annual Conference

The Communications Network annual conference is the premier global leadership gathering for foundation and nonprofit leaders committed to building a better world through the smart and deliberate use of strategic communications.

Communications / #ComNet16 / @TheComNetwork

MI
Communications
9/28/2016

Maryland Nonprofits' 23rd Annual Conference

Celebrating Success – Inspiring Innovation will bring best practices to life and help you become a pioneer in your field. This conference will help you work smarter, find simple and innovative pathways to make your job easier, and meet some really cool and passionate people! Our flex conference schedule will allow you plenty of time to learn and network with social change leaders from around the state!

Local / #MDNPAC16 / @mdnonprofits

MD
Local
9/29/2016

Digital Media and Learning Conference

The Digital Media and Learning Conference is meant to be an inclusive, international and annual gathering of scholars and practitioners in the field, focused on fostering interdisciplinary and participatory dialogue and linking theory, empirical study, policy, and practice.

Digital / #DML2016 / @dmlconference

CA
Digital
10/5/2016

Affect

Affect is a new community event highlighting the diversity of work and design behind social change. It'll open with candid stories about the ups and downs of working in social good and close with an afternoon of action and volunteering with local nonprofits.

Design / #affectconf / @AffectConf

OR
Design
10/7/2016

Opportunity Collaboration

Convene with thought leaders in social change from around the world. Learn best practices and the latest techniques and technologies to meet your greatest challenges.

Strategic / @OppColl

za(Int.) Mexico
Strategic
10/9/2016

Madison Nonprofit Day Conference

The Madison Nonprofit Day Conference is a one-day conference jammed pack with ~30 workshop sessions, networking, exhibits, lunch, and a variety of activities. Participants rave that they leave exhausted, excited, reinvigorated, and inspired to continue doing good, better. Join them. From communications to fundraising to technology to leadership skills, the conference offers something for everyone.

Local / #MadisonNonprofitDay / @nonprofitday

WI
Local
10/13/2016

International Fundraising Conference - IFC 2016

Delivered through a richly curated program, the IFC is a hub for unparalleled learning, networking and opportunities. Amazing speakers. Global delegates. A million ideas.

Fundraising / #IFC2016 / @TheResAlliance

za(Int.) England
Fundraising
10/18/2016

2016 Alliance National Conference

Take full advantage of the best national peer network by attending the 2016 Alliance National Conference. This conference features exceptional speakers and a plethora of workshops that address key issues and trends affecting nonprofit human-serving organizations. It features valuable opportunities for executives, senior management, and board members.

General / @AllianceNews

CA
General
10/19/2016

AASP Summit 2016

At this year's AASP Summit, presenters will focus on cutting-edge technology and business methods using case studies. Panel discussions, comprised of industry thought leaders, will address breaking trends and strategic direction.

General / #AASP16 / @advserv

IL
General
10/26/2016

TechNow 2016

The longest-running nonprofit technology conference in the Pittsburgh region – a whole day devoted to new, important technology trends and resources for nonprofits.

Technology / #TechNow16 / @TechNowConf

PA
Technology
10/27/2016

Philanthropy Southwest 2016 Annual Conference

As the most enduring regional association in the country, Philanthropy Southwest delivers a long-standing annual conference for the foundation community that draws hundreds of trustees and staff who learn from seasoned practitioners and experts from across the country.

Strategic / #2016PSWAC / @southwestfdns

CO
Strategic
10/27/2016

2016 Net Impact Conference

Strategic / #NI16 / @netimpact

PA
Strategic
11/3/2016

INBOUND 2016

HubSpot / Boston, MA / Less than $1,000

2016

INBOUND's purpose is to provide the inspiration, education, and connections you need to transform your business. Through inspiring keynotes, innovative talks, educational breakouts, hands-on lessons, and tons of networking, you will learn how the INBOUND experience, and especially our content, is truly remarkable.

General / #INBOUND16 / @INBOUND

MA
General
11/8/2016

Nonprofit Storytelling Conference

The Nonprofit Storytelling Conference is unlike any conference you've ever attended. Our goal is to create a space where you'll feel nurtured and cared for. As you dive deep into the world of storytelling and connecting with donors, we also want you to have a great time and feel inspired when you leave.

Storytelling / #npstoryconf / @501videos

IL
Storytelling
11/10/2016

Collaboration Conference 2016

GEO's Collaboration Conference 2015 brought together grantmakers who are already collaborating through a variety of formats. Through plenary and breakout sessions, case study conversations and skill-building workshops, participants tackled collaboration challenges, learned together and dove deeper into what's needed for successful collaborations.

Fundraising / #geocc / @GEOfunders

TX
Fundraising
11/16/2016

Independent Sector Conference

General / @IndSector

DC
General
11/16/2016

2016 Annual ARNOVA Conference

ARNOVA / Washington, DC / Price TBA

2016

This year's ARNOVA Conference theme is "Nonprofits, Philanthropy, and Government: Policy and Partnerships in an Era of Change"

Research / @ARNOVA

DC
Research
11/17/2016

Web of Change

The Web of Change annual conference brings together the foremost thinkers and doers in social media, digital strategy and social change.

Strategic / #webofchange / @webofchange

CA
Strategic
11/28/2016
Are you ready to make the most of all the stellar nonprofit events coming up in 2016? Get the calendar now!